-95% sur le Studio Bundle !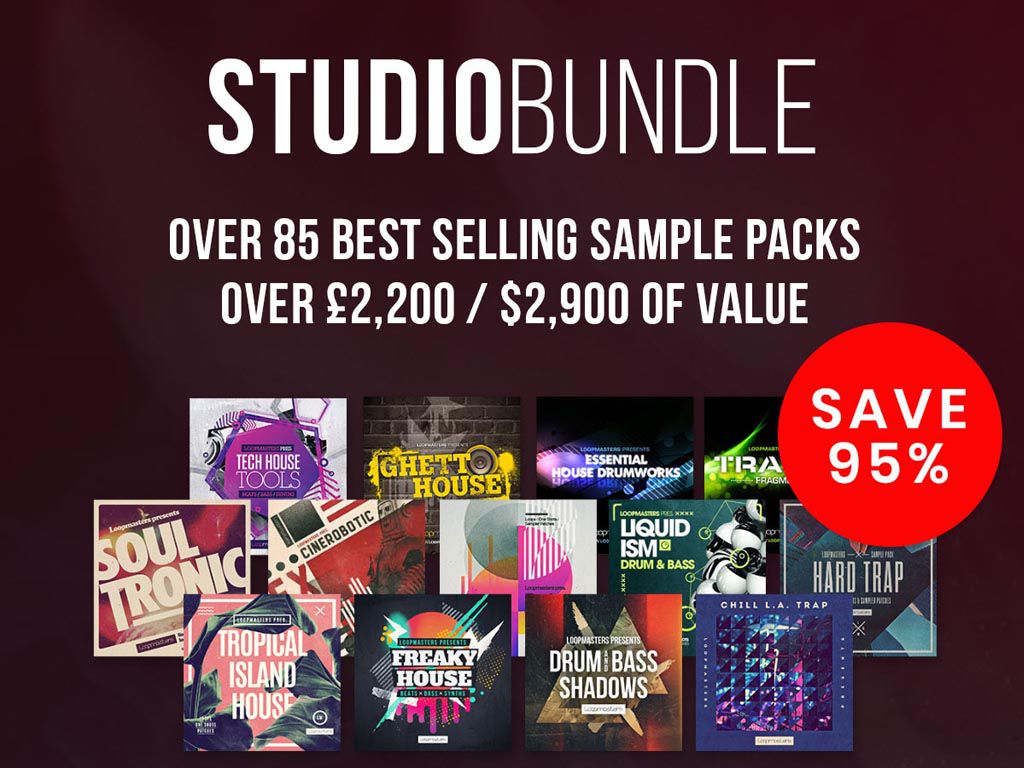 Loopmasters propose à l'occasion du Black Friday 2019, quantité de promotions ! Mais un bundle en particulier a attiré notre attention. Il s'agit du Studio Bundle, lequel contient un nombre gargantuesque de librairies (86 au total) ! Jugez-en par vous-même:

Abstract Future Hip Hop
Acoustic Drum Workshop
Ambient Waves
Atalanta Chill Vol 3
Berlin Dub Techno
Broken Beats The Definitive Drum Library
Chill House & Garage
Chill LA Trap
Chilled Glitch
Cinematic FX
Cinematic Indie Rock
Cinerobotic Fx
Circuit Bent Sounds Vol1
Club Funk & Nu Disco
Deep Analogue Tech
Deep Dub Tek
Deep Groove House
Deep Melodic Techno
Deep Trap
Discotecha
Drum & Bass Shadows
Drum & Bass Liquidism
Drum & Bass Fx
Dub Tech
Dutch Electro House
Electro BassLines
Elektro House Producer
Epic Electro  And Tech House
Essential House Drumworks
Essential Minimal Techno
Freaky House
French Electro House
Funkified Guitars
Future House & Tech
Futurism – Trap & Hip Hop
Ghetto House
Guitar Effex
Hard Trap
Hip Hop Progressions
Hollywood Soundtrack
House & Nu Disco
House Exposure
Indian Sessions – KV Bala Krishnan
Indie Dance And Nu Electro
Infinity – Down Tempo & Ambient
Ital Tek – Bass Electronica
Jay-J's Drums
Late Night Grooves
Latin Afro
Live Downtempo
Liquid Beat & Future Chill
Liquid Trap
Lounge and Chillout
Lovers Rock & Dub
Man vs Machine
Hip Hop & Future Soul – Massive Presets
Maximal Electro
Minimal Tech Vox 2
Natural Selection
Neon Horizon
Nordic Electronic
Nu Disco & Boogie
Nu Wave & Disco
Overloud Fx
Pulsar – Experimental Soundscapes
Quantum Theory – Entrapment
Radiophonic Synth Workshop Vol.2
Raw Organic Techno
Soul Tronic
Spinning House
Surefire Trap
Swedish EDM
Synthetic Sequences
Synthwave Generation
Tech House – Top Loops And Percussion
Tech House & Deep Minimal
Tech House Styles
Tech House Tools
Tech Therapy
Techno Resurrection
Trance Fragments
Trap Drift
Tropical Island House
Retro Electronic
Undercover Funk Vol 1
VIBES Vol 1 – Soul Trax

D'une valeur totale de 2900$ (prix cumulé normalement constaté), à l'occasion du Black Friday, Loopmasters vous permet de repartir avec tout ce petit monde pour la somme très raisonnable de 112,49€ (oui oui vous avez bien lu). Ne trainez pas trop donc pour en profiter (conjointement à votre DAW préféré ou encore l'outil gratuit Loopcloud, ça sera tout simplement une tuerie). Plus de détails ICI.
Merci de vous identifier pour pouvoir poster un commentaire